Divorce Preparation Checklist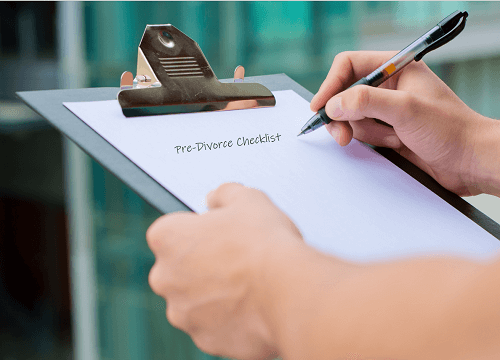 Despite best efforts to keep a relationship alive, sometimes marriages do come to an end and result in divorce. When it is clear that divorce is imminent, it's important to take proactive measures to better prepare yourself for the inevitable. Below is a helpful divorce preparation checklist that you can reference as you begin the divorce process:
Assemble the right team. Before you proceed, you will want to ensure that whatever actions you take do not adversely impact your best interests later in the proceedings. Meet with an experienced divorce attorney to make sure you're keeping yourself protected at all times.
Put together important documents. To expedite the process, identify and find documents that will play a part in the divorce proceedings. These may include copies of tax returns and documentation for mortgages, bank and investment accounts. Business owners should gather financial background information on their companies, which will also be reviewed as part of the divorce process.
Itemize property and important possessions. Before property or assets are divided, you will want to document your most valuable possessions, including automobiles, jewelry or high-ticket items like art. Doing so will make it easier in the long term, when these items may be closely scrutinized.
Manage your money. The approach to preparing for a divorce is two-fold: you'll want to set aside savings while key elements of the divorce are decided to ensure that you have adequate cash-flow, and you'll need to make sure you open a separate bank account. Designating new beneficiaries is another needed step when its clear divorce is on the horizon.
One of the most effective ways to make the divorce process easier is preparation. The knowledgeable St. Petersburg divorce lawyers at the Law Office of K. Dean Kantaras are ready to help you get started with the divorce process.
---
Contact us now to schedule a consultation!
---